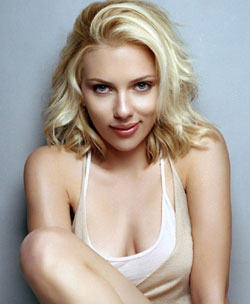 Scarlett Johansson has hit out at stick thin Hollywood actresses.
The 'Lost In Translation' star, famed for her curvaceous body, insists the movie industry is too obsessed with the weight of their leading ladies and admits she is worried about the pressure to stay super slim.
She said: "It is obvious to me that there is an overwhelming amount of women, of actors I look at, and they're too thin for my taste."
Scarlett, 21, says she finds the emphasis put on actresses weight and the seemingly endless list of fad diets exasperating - because they are far more important things happening in the world that deserve attention.
She added in an interview with Scotland's Daily Record newspaper: "There's mass genocide and starvation and epidemics but people don't want tot talk about those things - they just want to talk about who eats what for lunch. Who cares? I think all Americans are obsessed with weight and it's wrong."
However, Scarlett does admit to be obsessed with aspect of her appearance - her teeth.
The blonde actress had her gnashers bleached for her role in Woody Allen's latest film 'Scoop' because she was paranoid her teeth were stained.
She explained: "I whitened them to be really white. I would come in every day in agony – the bleach was killing me!"